MTV & SmartChrome VIP - Finest Grade Mirror Powder for your NAILS!
Posted on
We've got really exciting news to share with you all! This year MTV has asked us to work with them and the celebrities at the MTV Awards 2016. We'll be backstage with SmartPolish and our newest addition SmartChrome VIP!
---
Launching SmartChrome VIP...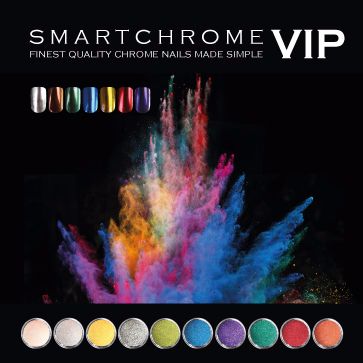 ---
We all know chrome nails have taken off in a massive way but we at SmartPolish have sourced the most superior powder to knock all the others out of the water...
Introducing SmartChrome VIP, the finest quality chrome powders on the market. As soon as you open a pot of our SmartChrome VIP you'll realise there is magic in every pot, the powder is specially dyed to give you a real wow factor when applying. The powder is a very fine grade which gives an impecable mirror effect, this also means it is applied easily.
To apply all you need to do is rub a fine layer over the top of an already cured SmartPolish manicure - using a small sponge applicator. Work in more if you'd like a dramatic effect, remember it's best to work with a small amount and build up to your desired effect. Once you have the level of coverage you'd like, use SmartPolish Clear Top Coat to seal in place. It really is the easiest way to get chrome nails.
Are you as excited as we are about this magic in a pot? We can't wait for you all to try it and show us your creations! PLUS, we'll be working with industry heaveweights at MTV, so tune in on 6th November to check out the stars and their SmartChrome VIP manicures.
---

---